Harold Henson wasn't expecting to catch the teaching bug. He was going into health care. But through some unexpected twists he ended up doing both.
During his undergrad at the University of Houston, Harold worked part time as a K-12 substitute teacher. He enjoyed instruction but didn't see how it could integrate with his plans for a health care career and his interest in the dental field. Then an unexpected mentor shaped the trajectory of his dental hygiene journey.
"I met a dental hygienist whom I saw for several years. She always encouraged my curiosity and answered my questions about dentistry and RDH programs."
After earning his bachelor's degree, Harold decided to pursue his RDH at The University of Texas School of Dentistry at Houston.
"It was kind of ironic. I was applying to the program while unbeknownst to me, my dental hygienist was leaving her private practice to teach. When she became one of my instructors it was a full-circle moment for me. She was the reason I chose that path, and she became a mentor and colleague to me until she retired."
Upon graduation, health care and teaching intersected for him. Harold accepted a position as a Clinical Assistant Professor at The University of Texas School of Dentistry at Houston. A self-proclaimed lifelong learner, he also knew that to realize his academic goal of full-time professor, he would need to further his own education. Over the next 20 years, Harold taught while also attending classes, graduating with an MEd from The University of Houston/Baylor College of Medicine in 2001 and a PhD from Texas A&M University in 2014.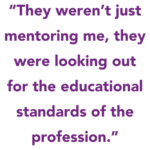 The strong mentorship that Dr. Henson received throughout his education shaped his conviction that everyone needs a constellation of mentors to succeed. This mindset not only helped him achieve his academic goals but also shaped him as a leader and mentor to many of his students. It is also a key reason why Harold has maintained his ADHA membership since he was a dental hygiene student.
"My RDH program was big on professional development. All my instructors were long-time ADHA members and emphasized the value of a professional network. When I first joined, I saw how my local and state leaders fought for educational institutions to be accurately accredited in my state. They weren't just mentoring me, they were looking out for the educational standards of the profession."
Harold has held numerous professional leadership positions at the national, state and local dental hygiene levels. He has served ADHA on the Councils of Education and Member Services and has been on the editorial boards of the Journal of Dental Hygiene and ADHA's former ACCESS magazine.
Harold's passion and commitment to cultivating community through teaching have earned him accolades and distinctions. In 2008, he was inducted as an inaugural member of
The University of Texas School of Dentistry at Houston's Dean's Distinguished Teaching Scholars in 2008, he was awarded the 2009 American Dental Hygienists' Association Procter and Gamble/Oral-B Educator of the Year, and he is a fellow of the American Dental Education Association (ADEA), Allied Dental Leadership Development Program.
Then in 2021, he received the prestigious The University of Texas System Regents Outstanding Teaching Award.
Dr. Henson was most recently inducted into the Kenneth I. Shine Academy of Health Science Education at UT, an honor that recognizes faculty for their teaching excellence and commitment to the enhancement of health science education. Dr. Henson is one of the first two dental hygienists to receive this award.
"The criteria are extremely rigorous, so to me, the academy is the epitome of teaching excellence. My new title is distinguished teaching professor, so it feels like there is no higher teaching accolade I could have. It is humbling and truly an honor."
As the ADHA celebrates Asian American, Native Hawaiian and Pacific Islander Heritage Month we are so pleased to celebrate Dr. Henson and the work he has done to break down barriers he saw when entering the field.
"When I graduated I didn't have any Asian American or male RDHs that could relate to my background. Today I feel like the profession has made great strides in both diversity and gender inclusion. This is why I have made it my mission to pay it forward as a mentor!"
Dr. Henson has advised hundreds of students, but there is one piece of advice he gives everyone: start small.
"I always tell my students that every degree creates a new window of opportunity. No matter what group you are a part of or what struggles you face – do not let that limit you. If you want to accomplish something, you need to lay the foundation for it. Take small steps first and do them as well as you can. If there is one thing I have learned it's that goals take time, but they aren't completed alone. Others will recognize your passion and you need them there to support you – people to give you honest feedback and advice on how to achieve your goals. You need a constellation of mentors, so take that first small step."
We are proud to call Dr. Henson a member of the ADHA community, and we cannot wait to see all his amazing achievements in the years to come. Thank you for your incredible contributions, Dr. Henson!
 ____________________________________
Interview by Kate Ryan. Article by Kate Ryan and Bronwyn Barrera, MBA. Kate is a communications specialist and Bronwyn is the director in the ADHA's Marketing & Communications Department. They can be reached at [email protected].