February Focus: Prevention!
The most common condition among children is largely preventable. According to the American Academy of Pediatric Dentistry (AAPD), dental caries/cavities are four times more common than childhood asthma and three times more likely than childhood obesity. For dental hygienists, NCDHM offers a great opening and opportunity to spread the word about how poor oral health and caries impact our kids' health and quality of life.
In their 2021 State of Little Teeth Report, AAPD examined the epidemic of tooth decay among children. Check out the following key stats from the Report:
Tooth decay is the NUMBER ONE chronic infectious disease affecting children in the United States and is on the rise, but it is largely preventable.1
The rate of tooth decay in baby teeth of children aged 2 to 5 years increased nearly 17% from 1988-1994 to 1999-2004.2
By age 5 about 60% of children will be affected by tooth decay.3
Children with oral health problems are THREE TIMES more likely to miss school due to dental pain than children with no oral health problems.4
AAPD recommends taking a child for their first dental visit by the age of 1.5
Delaying dental care to age 2 or 3 can have a negative impact on a child's oral health. 40% of parents and caregivers surveyed are delaying their child's first visit until after age 2.6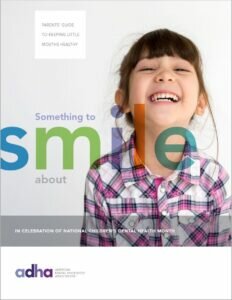 Get the Parents' Guide
To support your patient education, we created a quick-reference guide for download. Consider posting it on your practice website, email it as a follow up to appointments, or print and use it to support your conversations.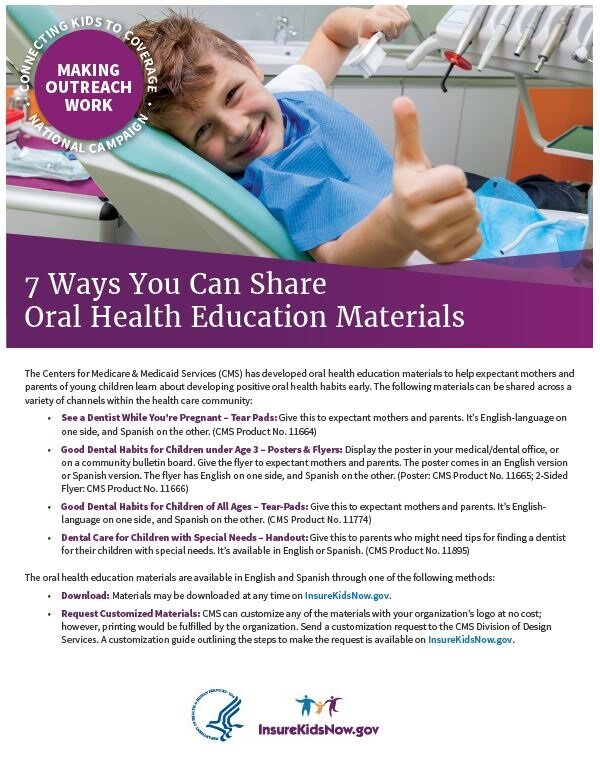 Make Your Outreach Work
The Centers for Medicare & Medicaid Services (CMS) has developed oral health education materials to help expectant mothers and parents of young children learn about developing positive oral health habits early. You too, can amplify the importance of oral health by displaying, sharing and distributing informational materials!

---
Centers for Disease Control and Prevention. Children's Oral Health. http://www.cdc.gov/OralHealth/children_adults/child.html. Accessed Jan. 26, 2023
Dye B, Tan S, Smith V, et al. Trends in oral health status: United States, 1988–1994 and 1999–2004. Vital Health Stat. 2007;11(248):1– 92. http://www.cdc.gov/nchs/data/series/sr_11/sr11_248.pdf

US Department of Health and Human Services. Oral Health in America: A Report of the Surgeon General. Rockville, MD: US Department of Health and Human Services, National Institute of Dental and Craniofacial Research, National Institutes of Health, 2000.

Jackson SL, Vann WF Jr, Kotch JB, Pahel BT, Lee JY. Impact of poor oral health on children's school attendance and performance. Am J Public Health.2011;101(10):1900-6. doi:10.2105/AJPH.2010.200915

American Academy of Pediatric Dentistry. Frequently Asked Questions. https://www.mychildrensteeth.org/resources-for-parents/parent-faq/. Accessed Jan. 26, 2023

American Academy of Pediatric Dentistry Consumer Survey. October 2013