Meet CE Smart. This comprehensive online learning solution combines high-quality continuing education and CE tracking all in one place! Target the courses you want and attend live and on-demand webinars to stay current on all the trending topics.
GO TO CE SMART COURSE CATALOG
Always Expanding Education
The CE Smart catalog includes an ever-expanding selection of on-demand courses. Courses are free or deeply discounted for ADHA members, and available for a fee to all interested attendees. Visit the catalog or view the user guide below.
View CE SMART USER GUIDE
Live + On-Demand Webinars
ADHA delivers a rich calendar of webinars to bring evidence-based content and expert speakers to you for a live online opportunity every month. Can't make it? Most webinars are available via a recorded link to registrants within 24 hours of the live event. The content is then converted into an on-demand course accessible within the CE Smart catalog.
VIEW UPCOMING LIVE WEBINARS
Simple CE Tracking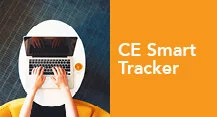 CE Smart Tracker makes managing your courses, credits, transcripts, certificates and compliance easy and all in one place. This feature is a free member benefit for ADHA members and available for $30 annually for non-members.
When it comes time for your license renewal, simply download your full transcript from CE Smart Tracker in your ADHA account.
Learn More About CE Smart Tracker
Awarding CE to Externally-Developed Educational Courses
ADHA Members and nonmembers may request support from ADHA to award continuing education (CE) credit for a non-ADHA upcoming educational program they have developed. ADHA's Policy on Requests for External Continuing Education Credit for Educational Courses outlines the requirements.
Curious About CE Requirements In Your State?
We've developed this overview as a reference, but it's always best to consult your state dental board for specific guidance and confirmation of these often-changing parameters.
Access Your CE Smart Learning Center
Attend A Live Webinar For CE