By Kate Ryan, ADHA Staff
As featured on ADHA Member Spotlight
May 28, 2023
As an immigrant and first-generation college graduate, An Chih Do knows the value of empowering others to reach their full potential.
An has been practicing in pediatric dentistry for over 17 years. Her background in film and television allows her to flex her creativity beyond the operatory as a speaker, bringing impactful information to clinicians. As an immigrant and first-generation college graduate, she knows the difference education can make, and it drives her to empower dental professionals with helpful tools to improve their patient care.
In recognition and celebration of Asian American, Native Hawaiian, and Pacific Islander Heritage Month, ADHA asked An to share her journey as an Asian American in the dental hygiene profession and how the challenges she overcame shaped her into the dynamic leader she is today.
---
Do feel that you have faced unique challenges as an Asian American in the dental hygiene profession?
Every Asian American has a distinct and diverse background, so I confine my observations to my own encounters. As an Asian American navigating the realm of dental hygiene, I encountered a range of challenges, particularly when assuming leadership and non-clinical opportunities. I noticed an absence of Asian American presence in prominent leadership positions, which compelled me sometimes to pave my way or receive support from other minority groups. It is worth noting that statistically, Asian Americans face notable barriers when ascending into leadership roles. This disparity may be attributed to stereotypes suggesting that Asian Americans' lack of social skills may further perpetuate the perception that they may be ill-suited for leadership roles.
Are there particular dental or dental hygiene challenges within the Asian American communities?
Absolutely! I provide a CE course on dental disparities in the Asian American community. The experiences and challenges can vary among individuals within this diverse group, but here are a few factors that can contribute to dental and dental hygiene challenges: cultural beliefs and practices; language and communication barriers; length of stay in America; lack of dental insurance; fear and dental anxiety; oral cancer risk; and the challenges encountered with the "model minority" myth and the "perpetual foreigner" stereotype.
What advice would you give other Asian Americans, Native Hawaiians, or Pacific Islanders who may be entering the field for the first time?
When AANHPIs enter the field for the first time, I advise them to prioritize finding a support community and start networking. This community becomes important during challenges, such as negotiating for a raise or advocating for necessary instruments. A safe and supportive network can provide guidance and emotional support. Seek professional organizations, networking groups, online platforms that cater to your field, or affinity groups supporting AANHPI professionals. Nurture these relationships and contribute to the community.
You founded and run an Instagram community account @AsianAmericanRDH that speaks to and connects Asian American dental hygienists. What prompted you to start this community?
As I transitioned towards non-clinical roles in dental hygiene, I understood that clinical and non-clinical Asian American hygienists required a space to connect, seek guidance, and foster a supportive network. I endeavored to create a community facilitating mentorship, collaboration, and mutual assistance in a secure and inclusive environment. I realized the need for a community where we could discuss shared experiences and seek guidance, particularly when there was heightened discrimination faced during the COVID-19 pandemic. We aim to empower our community and promote diversity within the dental hygiene profession.
You have recently served on the ADHA's Inclusion, Diversity, Equity, and Access (IDEA) Committee. What was that experience like for you?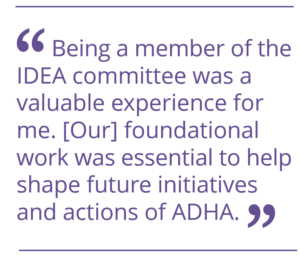 Being a member of the IDEA committee was a valuable experience for me. When I joined the committee, it was still in its early stages, which provided a unique opportunity for all of us to navigate and understand the fundamental concepts of inclusion, diversity, and equity. Throughout my time on the committee, I appreciated our learning process. We collectively explored and defined the various aspects and implications of inclusion, diversity, and equity, allowing us to develop a shared understanding and framework. This foundational work was essential to help shape future initiatives and actions of ADHA.
Are there aspects of your heritage that shaped you as the leader you are today?
My heritage as a 1.5-generation immigrant has influenced my leadership style. I have witnessed the tremendous sacrifices my parents made to provide me with a life filled with opportunities. Their dedication and perseverance have been a constant source of inspiration. I want to honor their sacrifices and create a positive impact on the lives of others.
My parents always encouraged me to find my path and allowed me to explore and develop as an individual. Despite numerous challenges, they never let those deter them from pursuing a better life for their families. One significant challenge they faced was the communication barrier. With minimal English skills on their part and my own Chinese being conversational at best, there has always been a language gap between us. It is challenging to explain everything I do in Chinese, and they may not fully comprehend the extent of my accomplishments or the complexities of my work. However, I am determined to ensure their sacrifices are not in vain.
This experience has instilled a deep sense of gratitude and empathy. It has taught me the importance of effective communication, inclusivity, and understanding in leadership. I recognize the value of creating an environment where individuals from diverse backgrounds can thrive and contribute their perspectives. I strive to be a leader who fosters open dialogue, breaks down communication barriers, and empowers others to reach their full potential.
---
During #AANHPI Heritage Month, we recognize An for all the work she has done to lead the dental hygiene industry to be a more inclusive space where everyone has equal opportunity. Thank you for all you do An! Be sure to follow her Instagram accounts @ThePediatricRDH and @AsianAmericanRDH.
 ____________________________________
Interview and article by Kate Ryan. Kate is a communications specialist in the ADHA's Marketing & Communications Department. She can be reached at [email protected].