By Kate Ryan and Bronwyn Barrera, MBA, ADHA Staff
As featured on ADHA Member Spotlight
June 23, 2023 
From a young age, Elijah Desmond knew that supplying smiles was what he was meant to do.
But he never imagined how his passion would turn into a lifelong career filled with fun and adventure, and how the unique and inspiring path of this industry trailblazer would make a difference in people's lives. 
Elijah was a bright and motivated young man with a strong growth mindset and an understanding of potential, beyond his years. Despite testing into college at the young age of 15, he was drawn to helping others and decided that his next step was to share a message of empowerment with kids and in particular kids at risk, that they could do anything they set their minds to. 
"I discovered pretty early on that I had the ability to inspire and to save lives," Elijah explains. "To save kids' lives!" 
So, the young entrepreneur got to work connecting with kids as a youth motivational speaker. In 2003, Elijah began spreading his impactful message of hope and empowerment across the United States, motivating children and young adults to reach their full potential, one presentation at a time.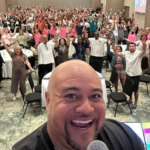 As fulfilling as his speaking role was, however, Elijah also wanted to continue his own education. While inspiring young minds around America to pursue their potential, he also had some decisions to make about the trajectory of his career and his own future. He didn't have to look far for inspiration and turned to his family, filled with oral health professionals. 
"My mom was a dental office manager, my aunt is a dental hygienist, and my uncle is a dentist. It just made sense for me to go into dentistry," Elijah recalls. "I grew up around it, and becoming a dental hygienist seemed like the best path for me." 
Elijah earned his BSDH from The Ohio State University in 2009 and subsequently moved to Hawaii, putting his RDH to work in private practice for a time. He enjoyed the profession and the industry, but he had a growing feeling that his life's purpose would be defined outside of the clinical setting. 
"I have never been one to follow a predetermined path. I have always felt like an entrepreneur, doing my own thing and making new rules. So, I rewrote the trajectory of what a traditional dental hygienist could do."
Blending his experience and passion, Elijah carved out a new role for himself in the dental industry as a motivational speaker, pumping up traditional conferences and educational events into exciting, engaging festivals building fun and interactive experiences into the learning atmosphere. Adding music to the mix, Elijah became better known as DJ Smiles, injecting high energy, music and fun into his motivational programs and shows.
"As a DJ my goal is to get everyone on the dance floor. Get everyone to laugh, sing and to really just give them an experience they won't soon forget." 
Throughout the years, Elijah has remained a committed RDH and a long-time ADHA member. 
"I stay an ADHA member to support all my industry peers. They need the ADHA to advocate for them," he says. "For dental hygienists, relationships are everything. If you look at the ADHA like I do, it's an important community. Anytime you can support a member of a community like this, I say jump in." 
________________________________________________________ 
Catch Elijah "DJ Smiles" Desmond on July 7 at the ADHA23 Annual Conference All-Attendee Reception sponsored by onDiem, where he'll bring his special combination of energy and fun to Chicago!
________________________________________________________ 
After 20 years and 1,000 hours of motivational speaking, emceeing and deejaying, Elijah catered his program even further to the dental community and founded The Dental Festival. This one-of-a-kind event hosts multiple dental conferences over a three-day weekend. As CEO of the event, Elijah feels particularly rewarded by giving others a platform to share their own knowledge and talents with the oral healthcare community. 
"I wanted to empower people by providing an opportunity to speak, but add my flare to the event," explains Elijah. "I introduce them, charge them up with energizing walk-up music and get the crowd on their feet to cheer for these amazing presenters! It puts the spotlight on them and their work, not on me." 
Elijah is especially excited for Dentistry's Got Talent, one of the festival's conferences that brings talented speakers together in a TED Talk-style competition in hopes of winning a speaking contract with the festival or being scouted for other events.  
"This amazing industry is the best thing that has ever happened to me. No one could ever have told me ten years ago that I would be performing on cruise ships, traveling the world, hosting events, deejaying and emceeing. I would not have believed it," he reflects.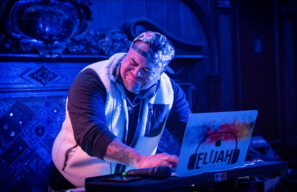 Elijah has also recently launched an oral healthcare education program in a cruise setting called Smiles at Sea and is also a published author of "Serial Entrepreneur: From Startup to Success" offering practical advice on defining a personal version of success. 
Supplying smiles is not only what Elijah is good at, he was clearly meant for it. 
________________________________________ 
Interview by Kate Ryan. Article by Kate Ryan and Bronwyn Barrera, MBA. Kate is a communications specialist and Bronwyn is the director in the ADHA's Marketing & Communications Department. They can be reached at [email protected].