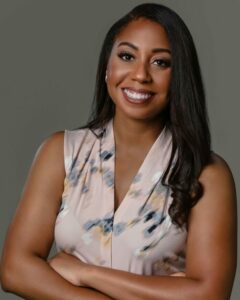 Treasurer
Chante Miller, CRDH, CLSSGB, MBA
Chante Miller, CRDH, CLSSGB, MBA of Tampa, Florida is the 2023-2025 Treasurer of the American Dental Hygienists' Association (ADHA).
She earned her Associate of Arts in Nursing from Santa Fe College, Associate of Science in Dental Hygiene from St. Petersburg College, Bachelor of Science in Biomedical Science from the University of South Florida, and recently completed her Master of Business Administration from Florida International University with a focus in Healthcare.
Chante currently works in a corporate setting as a dental integration consultant where she works across the organization to ensure oral health is a part of overall health. She has held previous positions in public health dentistry, education, and several roles within the ADHA. Chante enjoys volunteering within and outside of the association in an oral health advocacy capacity and as a youth mentor.
When she's not serving in an oral health care capacity, Chante enjoys traveling, reading, and spending time with friends and family.