Katie Dawson knew that sitting at a desk as a secretary was only a brief stop on her career journey. She was headed for more. In search of a profession that had meaning to her and the promise of a career and community, Katie explored options with her brother who was a dentist. His suggestion changed her life and set her on the road to dental hygiene.  
Katie started out at community college, and eventually went on to earn a Bachelor of Science in Dental Hygiene from the University of California, San Francisco in 1976. Licensed soon thereafter, she began to practice full time as a dental hygienist. 
She loved the work and caring for her patients, but Katie often found herself drawn to those who needed a bit of extra care.  
"While I was still in school, I saw an elderly patient. He sat down in the chair and was very quiet. I didn't think much of it, but at the end of our appointment he turned to me and said, 'You have such gentle hands.' That little phrase just really touched me. I felt like my work had touched him, more than just professionally. The difference I made was something I always took with me." 
Inspired by the strong sense of community she enjoyed among her dental hygiene peers, Katie began volunteering for positions within the American Dental Hygienists' Association and the National Dental Hygienists Association.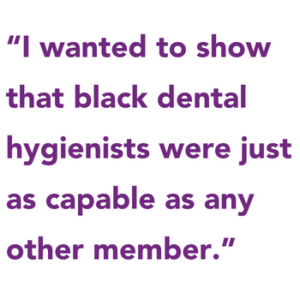 Katie shared, "I was willing to step forward when others were not. From there I just kept moving up and up. I tried to foster a community of support rather than competitiveness." 
As fulfilling as she found the exchange and contributions to be in her volunteer work, Katie found herself wanting broader representation within the leadership roles. Not being one to withdraw from a challenge, albeit one she gave herself, she thought to herself, "If not me, then who?"  So, she decided again to be that example and step forward to lead.
"I wasn't just any other candidate," Katie explained. "I wanted to show that black dental hygienists were just as capable as any other member. I was capable, I was willing to do it, and there was no reason I wasn't going to do it."
Not only did Katie Dawson serve a two-year term as president of the National Dental Hygienists' Association (NDHA) from 1981 to 1983, she was also the first black president of the California Dental Hygienists' Association (CDHA) 1995-1996, and served as the second black president of the American Dental Hygienists' Association (ADHA) for the 2005-2006 term.
Katie led many successful endeavors during her time in leadership positions. The legislation that successfully established the RDH in Alternative Practice license in California was introduced during her term as CDHA president. In 2001, she was appointed to the Dental Board of California by then Governor Gray Davis, as the lone dental  hygienist member. Her voice there led to the successful passage of CDHA-authored legislation allowing for RDHAP coursework to be developed on community college campuses. 
During her term as ADHA president, Katie was heavily involved in launching the ADHA Tobacco Cessation Project and is also proud of her contributions to the development of ADHA's Advanced Dental Hygiene Practitioner template for a mid-level DH provider. 
After 35 years in private practice settings, Katie decided to become mobile, focusing her talent on caring for seniors who may be home-bound. She earned her Registered Dental Hygienist in Alternative Practice license through the University of the Pacific program, which was possible due to legislation she helped pass. 
"I got such satisfaction from those few years as an RDHAP. I loved working with clients outside of the office, at their homes, nursing homes, or hospitals. The patients were so loving, kind and appreciative. It just made me want to care for them even more." 
In recognition of her robust and outstanding advocacy of the profession, in 2009 Katie was awarded the UCSF School of Dentistry Alumni Medal, an honor bestowed upon only a handful of UCSF dental hygienists. She went on to earn the ADHA Award for Excellence in 2012 for her outstanding achievements and the following year was also appointed to the Dental Board of California. 
Katie retired from practice in 2016 and resides in California. Her hopes for the profession are a continually broadening scope of practice and expanding roles for dental hygienists, while maintaining and supporting the important and fulfilling RDH community that has always been so valuable to her. 
 ____________________________________
Interview and article by Kate Ryan. Kate is a communications specialist in the ADHA Marketing & Communications Department. She can be reached at [email protected]