By LCDR Erin Heap, RDH, BSDH, PHDHP
Adapted with permission from The Fulcrum Newsletter, Issue II – Summer
from the Dental Hygiene Professional Advisory Group (DHPAG) representing
United States Public Health Service (USPHS) Dental Hygienists
October 16, 2023
When the American Dental Hygienists Association (ADHA) celebrated its 100th anniversary at the Annual Conference in Chicago this past July, the profession's first Fellows were inducted—162 ADHA members from 42 states. Being honored as such shows a continued commitment to education and the practice of dental hygiene, an outstanding reputation of ethics, and professional responsibility and standards. The lifetime designation also comes with the credentials of FADHA, which members are encouraged to use in their professional signature lines. The distinction of earning these credentials is no easy task; to become a FADHA, there is a rigorous selection process in which exceptional applicants are chosen. Details on the qualifications and selection process for the Professional Fellows Program can be found here.
The inaugural class represents dental hygienists from all stages of their careers and across several practice and professional settings, from clinical, research, non-profit, education, advocacy, and even retired members of the profession. I had an opportunity to speak with ADHA Member, District II Director, and inaugural ADHA Fellows member Carolynn B. Wahl, RDH, BSDH, PHDHP, FADHA, to learn more about the program and gain her perspective on the new distinction available to those in our profession.
LCDR Heap: Can you give us a brief history of your ADHA involvement and current position and role?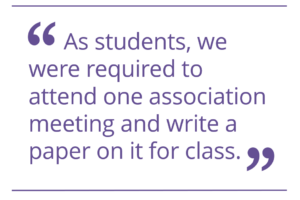 Carolynn: "My leadership journey began while attending a mandatory Maryland Dental Hygienists' Association (MDHA) constituent meeting, just as I was completing my bachelor's degree at the University of Maryland–Baltimore. As students, were required to attend one association meeting and write a paper on it for class. I was sitting next to one of my faculty members, the late great Linda DeVore, RDH, MA, and she volunteered me to serve as Treasurer of the Greater Baltimore Dental Hygienists' Association (GBDHA). It was a surprise to me, but one did not say "no" to Linda DeVore. So, there I was, Treasurer of the GBDHA.
That first step into volunteer leadership started my path up the leadership ladder to ultimately serve as President of the Maryland Dental Hygienists' Association (MDHA). In my time as a line officer for MDHA, I also served as Alternate Delegate, and Delegate to our national ADHA meetings and on various committees. My favorite committee by far was the Legislative Committee both as member and as Chair. It ignited my love for legislation. How legislation impacts and protects our scope of practice helped me realize what membership in our association does for us in a very concrete way. ADHA advances and protects our careers through advocacy on the state and national level. Without the representation of our professional association, we run the very real risk of losing ground on all we have worked for.
When I moved back to Pennsylvania, I continued in a volunteer leadership role as Chair of the Government Relations (GR) Committee. I remained involved with the Pennsylvania Dental Hygienists' Association (PDHA) as GR Chair until I was elected to the position of Director of District II, placing me on the ADHA Board of Directors (BOD). The basic principles of volunteer leadership remain, whether you serve at the local, state or national level. These include upholding the mission and vison of the organization while remaining adherent to my fiduciary responsibilities of care, confidentiality, loyalty obedience and accounting. I made a promise to myself at a leadership workshop in 2014 that I would set my goal to serve at the national level to honor all the mentors along the way who saw the leadership potential in me. Each step in my journey has been to serve and support the art and science of my chosen profession of dental hygiene."
LCDR Heap: Why do you think it is important for ADHA to have this new Fellowship Program? and why did you apply to be an ADHA Professional Fellow?
Carolynn: "I think the addition of the Professional Fellows Program to the ADHA is important because it allows dedicated professionals to identify as representing exceptional achievement in our profession, indicating we are a community of members who have taken the next step and continue to strive for excellence. I became an ADHA Fellow because I am committed to high achievement in this profession and as a member of the Board of Directors, I feel it is important to embrace the standards of excellence that FADHA represents."
LCDR Heap: What do you see as a benefit for RDHs alike to become an ADHA Professional Fellow?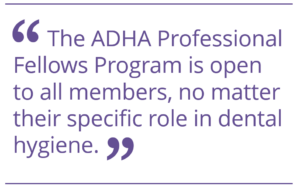 Carolynn: "The ADHA Professional Fellows Program is open to all members, no matter their specific role in dental hygiene, once they attain the required criteria established for application consideration. Acceptance is not dependent on a degree level or any other level of formal education. It relates to professional commitment, reputation, responsibility and standards."
LCDR Heap: In your opinion, who should apply to be an ADHA Professional Fellow?
Carolynn: "All ADHA members who qualify! Becoming a Professional Fellow is an opportunity to demonstrate the exceptional professional that you are and be recognized for the hard work you have put into your career, and it is a lifetime designation."
LCDR Heap: As an inaugural member of the ADHA Fellow Program and devoted ADHA member, what emotions did the induction ceremony and the 100-year celebration in Chicago bring up in you?
Carolynn: "Celebrating the 100th anniversary of our association in Chicago was a distinct highpoint – the joy, camaraderie and sense of connection across our membership was sensational. And being inducted into the inaugural Fellows class in our centennial year is an honor I won't soon forget. I feel a sense of pride as a dental hygiene professional, to be a permanent part of the organization in that way and, I will admit, a sense of pride also at being a small part of ADHA's 100-year history. Cheers to the next 100 years!"
View the complete list of the 2023 class of ADHA Professional Fellows here. To learn more about the ADHA Professional Fellowship Program, visit www.adha.org/fellowsprogram
_______________________________________
LCDR Erin Heap, RDH, BSDH, PHDHP, is a long-time member of the ADHA and a clinical dental hygienist who is an active member of the Dental Hygiene Professional Advisory Group (DHPAG). She serves as an officer in the United States Public Health Service (USPHS), a uniformed service that consists of about 6,200 healthcare officers.
The mission of the USPHS is to "protect, promote and advance the health and safety of our nation". The Fulcrum is the DHPAG's quarterly newsletter that keeps hygienists in the service connected and informed across their various career paths and deployments. To learn more about the USPHS visit www.usphs.gov.