Looking for the smartest way to earn and save on the CE you want and need for your California dental hygiene license? Backed by ADHA, the nation's largest professional association dedicated to dental hygiene, our CE Smart Subscription is now available for California dental hygienists only for just $150 a year! That's an amazing value that includes unlimited access to free and discounted CE courses.
As you know, California licensure requires 25+ CE credits every two years.
Finding, enrolling and keeping track of CE can be a real hassle. And while there is plenty of CE to be found from a variety of not-always-vetted sources, you want quality, expert-led, evidence-based courses to keep you on the top of your game.
CE Smart Access
ADHA delivers this all-access subscription to a dynamic and diverse catalog of courses and webinars. Courses and new topics are added monthly, ensuring you have fresh, up-to-the-moment content at your fingertips.
PLUS, with the built-in CE Smart Tracker, you can store documentation and track the credits you earn all in one place.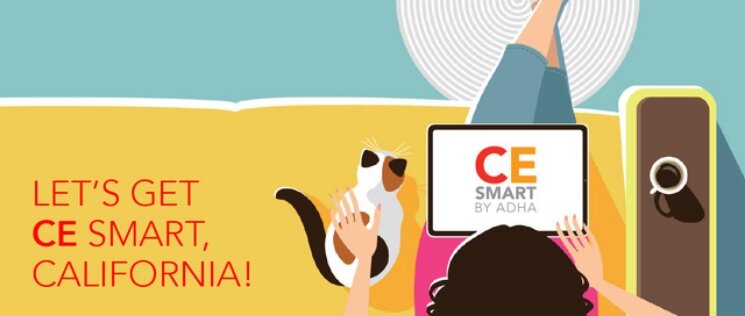 Why Subscribe?
Unlimited access to FREE and discounted CE
FREE CE Smart Tracker ($30 value) to track all the credits you earn from all sources
Expert-led courses and webinars on trending topics, with an always-growing course catalog
High quality CE from a name you know and trust
On-demand access with high-level content ready when you want it.
Yes! We are testing this as a pilot program with dental hygienists who live and practice in California only at this time. Based on what we learn, and how many hygienists love this option, we may roll it out to additional states.
Not all CE is created equally. With ADHA's CE Smart Subscription, courses and webinars are delivered by ADHA, the nation's largest professional association dedicated to dental hygiene. We curate content and vet the experts, so you don't have to.
CE Smart Subscription is all about, and only about, CE. The subscription delivers access to free and reduced-fee CE courses and webinars for one low rate. Subscribers do not receive the member discounts on Conference and events, publications and access to members-only savings and resources. If you are interested in learning more about membership click here.
Included with your subscription — CE Smart Tracker lets you track ALL the credits you earn from ALL sources and keeps your documents organized for super easy access and documentation for licensure (non-subscribers and non-members pay $30/year).
Yes. Your CE Smart subscription is set to renew automatically on an annual basis. You may cancel at anytime, and your subscription will be good through the end of the current period at which time it will not renew.